Good Luck Entrants
Updated Feb. 7, 2018:
The Contest is now closed for entries – Good luck to all the contestants in the 2018 contest!
We will post winners here when they are announced.
_______________________________________________________
From October 2017
The NFPW Communications Contest is Live for your Entries!
Go online and find out about this year's Communications Contest, where you can enter your 2017 work in many categories.
Take stock in your best work and enter the VPC contest now. The deadline for entry into the contest is midnight in your time zone on February 6, 2018.

The NFPW National Communications Contest is a two-tiered contest open to anyone over the age of 18 regardless of age, gender, professional status or location.
The first tier of the contest is run at the state level. Entrants in states without an affiliate-level contest and international entrants are welcome to enter the at-large section of the contest. When entries warrant, the at-large section of the contest may be split into regions to create a more level playing field.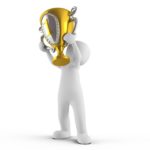 First-place winners from the state-level contest and the at-large contests are then moved to the national level of judging. To be eligible to compete at the national level, the entrant must be a member in good standing with the National Federation of Press Women. Entrants can join NFPW once they learn of their winning status.